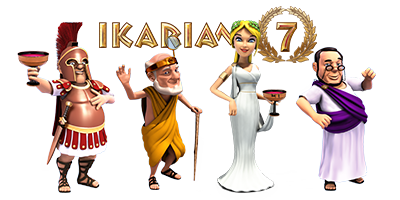 Dear players,
Ikariam turns 7 today and to celebrate this we came up with a few things we think might be fun and enjoyable.
1. 6 day event
To celebrate and enjoy this anniversary in game we'll have a 6 day event with several bonuses which will be noted each day in game in a popup. The event starts on 22.01.2015 12:00 CET.
2. Contest
Additionally we'll run a little contest in which you can win:
5 Ikariam T-Shirts

3 Gameforge Coupons each worth 25€

10 Gameforge Coupons each worth 10€

25 Gameforge Coupons each worth 3€

To take part in the contest all you have to do is send us your anniversary wishes or your best, funniest, most favorite Ikariam story/event, for example when you raided an enemy with just 10 steam giants and won the battle or whatever cool happened to you in the past 7 years.
We will randomly choose the winners from all participants. You need to send your story/birthday wishes to
7years@ikariam.org in German or English.
Your mail must have been sent until
29.01.2015 15:00 CET
the latest. We will inform all communities about the winners a week after that.
Enjoy the anniversary!
Your Ikariam Team